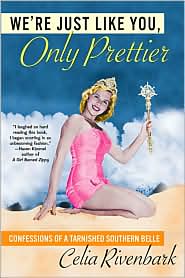 We're Just Like You, Only Prettier:
Confessions of a Tarnished Southern Belle
Absolutely hillarious! This book is not at all plot-driven - each chapter talks about something different. I like to read books like this when I am in between books, don't feel like thinking very much, or want a bit of light reading. From start to finish, it took me over a year to read. But each time I picked it up, it left me in stitches. And no wonder with chapters titled: Stop Watching Your Plasma TV and Start Selling Plasma - How to Become Honest-to-Jesus White Trash and Stamp out Gossip? - My Best Friend's Mama's Sister's Hairdresser Won't Like This a Bit. If you grew up in the South, most of the chapters will seem very familiar to you. Rivenbark also has a few other books out I may read off and on over the next year. But I can't decide between Belle Weather: Mostly Sunny with a Chance of Scattered Hissy Fits or Bless Your Heart, Tramp. You can check out her website here.